Mystery Loft Top Shelf Racing Pigeons
Mystery Cock The Story
THE MYSTERY COCK

The Mystery Cock died in 1999 he was a medium sized dark check with a small waddle and perfect round head. His feathering was tight to his apple body. He never had a feather out of place.I have never held another pigeon with softer or more perfect feathering.He was caught in the wild with no band on his legs,But anyone could tell he was a true homer hence the name
"THE MYSTERY COCK"
THE MYSTERY COCK FAMILY

I had him for 10 years mating him to a different hen every year. I was amazed no matter what mate I chose for him yellows,trentons,bricoux,or grizzles the youngsters flew excellent,and as Old Birds were the toughest endurance pigeons in my loft, even today his grandchildren are the 1st ones home on the hard ones. Winner's of 10 club races 500-600m a 1st Combine State Race 500m,2nd Combine on 600 with 25 mile an hour head winds.You can't find tougher pigeons anywhere.With over 100 diplomas and still climbing, his family is the one when the weather turns bad they come through. It is a big part of my long distance team.
BLACK EAGLE / SILVERE TOYE
The foudation of this family is the blackeagles out of south Africa which were crossed with the best silvere toye hen ever to hit this area. Of this pairing I aquired 2 Tremedous cocks AU 91 NOSUB 156 BLKWF and AU 92 NOSUB 1225 Solid Black,1 sister AU 91 NOSUB 163 Solid Black,and a neice AU 93 NOSUB 1055 BB. These 4 pigeons are a very big part of my success breeding 20 of the 80 1st Twincity Combine Winners, 40 of my 1st Place Club Winners from 100-500m. With over 150 diplomas Won by the children, grandchildren and greatgrandchildren all out of the 4 birds mentioned to your left.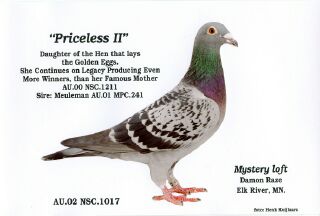 Versljipe Janssen / Meuleman Family
The base of this family originates back 30 years to Horest Hackemer on both the janssen and meuleman sides.I have line breed and inbred these families for several years now and they just gets stronger. Winning 28 Twincity Combine Races and 100's club 1st over the years this family of birds continue to be the driving force behind my success at the 100-300mile races.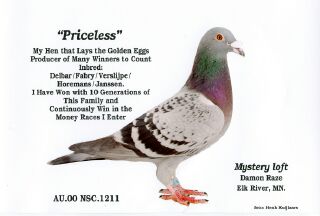 Delbar / Verslijpe family
This is my hottest flying family built for speed .The cock # AU 90 CRM 0760 BB is Delbar strain down from Clair Delbar of Belgium.(760) father was the 1st place Winner of the 400 mile Midwest Topek Race Competing against All 5 States and Thousands of birds!The Hen # AU 86 MPLS 2962 BC a small hen breed from a Horeman cock and a Verslijpe hen out of BARCELONA WINNERS from "24" and "Kreone"Belgium Imports.I have 8 Generations of proven Winners from this HIT PAIR, 100 - 500 MILE 1st Concourses, 2nd Concourse 600 miles, Winners in several 1 LOFT, Auction, and Futurity Races all across the Country. Birds with 20 and 30 Diplomas stacked up all bred down off these TWO PIGEONS.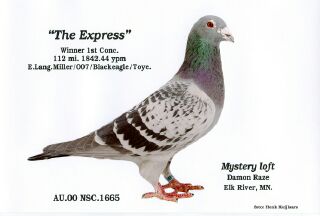 Havinith / HVR Family (Kenosha)
This family was started with two pigeons that were given to me by a friend Larry Lattery. The Big Wattle Cock #AU 86 KEN 713 BC was purchased at an auction of an old timer that had past away out in Kenosha Wisconsin back in 1991. 713 was one of his old foundation family (Havinith). The hen # AU 89 Spokane 516 BC was a gift from a mutual friend of ours Jerry Yates a tremendous fly out of Spokane Washington. They mated up in the crate on the way home.There youngsters # AU 94 NOSUB 99 BB Hen 1st club 2nd Combine vs 404 birds at 615 miles,# AU 94 NOSUB 100 BB Hen 1st club 18th Combine vs 510 birds at 615 miles.1995 # AU 95 NOSUB 101 BBWF Hen 1st home 2nd club 450 m,2nd club 300m,3rd club 500m 5th club 100m.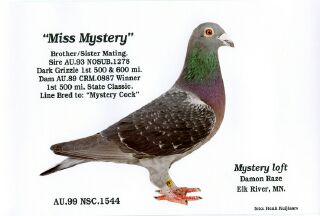 CADET, KADET,LIEBLING,TYGER,YOUNG VANDEN BOSCH,THE CULL,COUNTESS, THE 1980's H.HACKEMER-MEULEMANS
E.LANG.MILLER / 007 / BLACK EAGLE / TOYE / MEULEMAN